Servicing
Acliffe Garage recommend that a full service should be carried out on a vehicle every year or as scheduled by the mileage in your manufacturers service book – whichever applies first. Servicing proactively maintains your car, reducing the risk of a breakdown or costly repairs. Servicing also can help maintain your vehicles value.
Acliffe Garage
offers servicing on both diesel and petrol vehicles and uses parts that match the quality of the manufacturer's original equipment. We will stamp your service book, to ensure your vehicle's service history is maintained.
All services are carried out using a service checklist, this enables you to see more clearly what exactly has been carried out on your vehicle during its service. It also helps to keep a detailed record of the maintenance of your vehicle. If you haven't got a service book for your vehicle we can provide you with one free of charge with your service, just ask when you bring your vehicle.
We will also reset your service indicator once the service as been carried out.
Should any vehicle defects be found during the course of the service, we will inform you of these, and quote if requested. We will give you our professional and honest opinion of the urgency of any repair.
All
Acliffe Garage
service technicians are specially trained and fully qualified to use the latest electronic diagnostic equipment.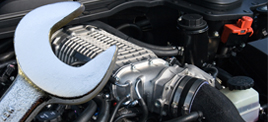 MOT Test & free re-test if required - special offer price